---
M1 A/C panel Installation Guide
---
Remove consoles. There is no electric modification and/or mechanic modification.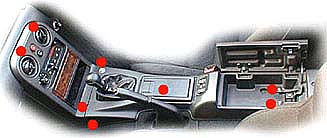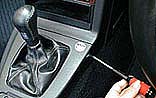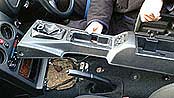 Remove five screws around a floor console and remove the black plastic cover. One screw is behind an ash tray. See the pictures above.
Remove the shift-knob by turning it left.
Under the floor console, there are two connectors for a ash-tray light and a power window switch.
Disconnect these connectors.
---






Remove eye-balls (diffuser rings). Remove two screws on the top of each A/C duct.
There is one more screw on the bottom of front left side to be removed.
Pull the center console and disconnect a connector for harzard switch behind the console.

---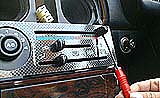 Remove four screws on each corner of A/C panel. There are three small screws under each adjust lever cover.
Remove these screws and these small adjust lever covers.

Remove A/C panel by putting a flat-blade screw driver into the hook around the A/C panel.
The panel of a blow level is attached by both-sides adhesive tape. Remove the panel and tape.

---
It is the work which a desk is used for from here.







Setting of A/C panel on the plastic mount cover.
1) Remove a display panel from the plastic mount cover.
Clean a rest dirt of adhesive tape completely.The original display panel is never used again.

2) Attach the new AWD panel on the plastic mount cover instead of original one.
Check the form and remove a protect seal of both-sides adhesive tape and attach the panel.

3) Attach the new AWD panel cover on the A/C panel just attached.
Cutting each corner of the AWD panel cover a little bit allows you install it easily.

4) It's done about A/C panel.

5) Attach a clear adhesive tape on the red area of picture.
After removing the dirt on the clear plastic parts which was set behind
the blow-level panel. Do not install the new AWD blow-level panel in this step.

Work with the desk is completion.
---






<!リングをきれいに装着するために-----------------> To deal with ring adhesion beautifully.
Adhesive isn't much used. Adhesive is never put on finger.
Adhesive is taken out to little, the attached sheet, and put on surface on the back of the ring.
A circumference is unnecessary. It is OK in about 8 point.
Moment adhesive isn't acceptable because gas turns and turns white.

---
Install A/C panel.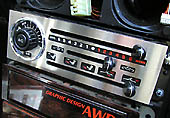 A) Check the form of the clear plastic parts and install it properly.
B) Attach the AWD blow-level panel on the clear plastic parts. Fit the buttom of blow-panel first, and set it up properly.
C) Attach the plastic mount cover and push it to be hooked up. Tighten four screws on each corner.
D) Put three small adjust lever covers and be screwed. Put the center console and the floor console as it was before.
Enjoy your new A/C panel.

---